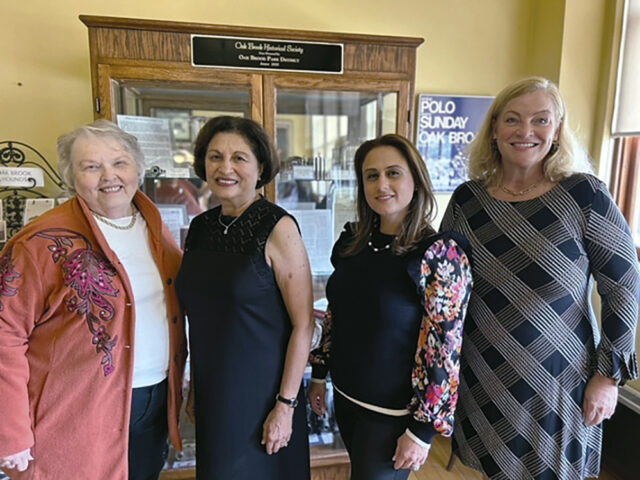 By Anna Hughes
If there's one thing the Oak Brook Historical Society is sure of, it's this: it takes a village to build a village. Inside the Oak Brook Heritage Center, the group's home base, portraits of polo players and local leaders decorate the old school house.
But next to every well-known man honored throughout the Old Butler school, a woman was helping create the place over 8,000 people call home.
At a roundtable event on Sept. 24, four women from Oak Brook talked about these female figureheads.
At the panel moderated by society president Lisa Griffith, Dr. Rita Yadava shared her experience as an immigrant who chose to build her life here; Lara Suleiman talked about her hopes for more representation in the Oak Brook Park District; Karen Bushy told stories of her time as the only female village president; and Susan Kelly Costello emphasized the importance of keeping her travel business in Oak Brook, even during pandemic struggles.
When asked what she hopes people will take away from this conversation, Griffith said, "What will be your impact? When you're remembered 50 years from now, what are they going to say about you in your community? Are you a part of that history? Are you going to be a part of that narrative?"
These panelists hope to make an impact and join this community's history, while paving the way for others to do the same. Although they come from different backgrounds, professions, and walks of life, they share one main goal: to mentor other women, especially the next generation of Oak Brookans.
These ladies agree that to break the glass ceiling, women need to raise each other with support, shying away from competition. They're not asking you to set up your own table; they're welcoming you to take a seat at theirs. ■