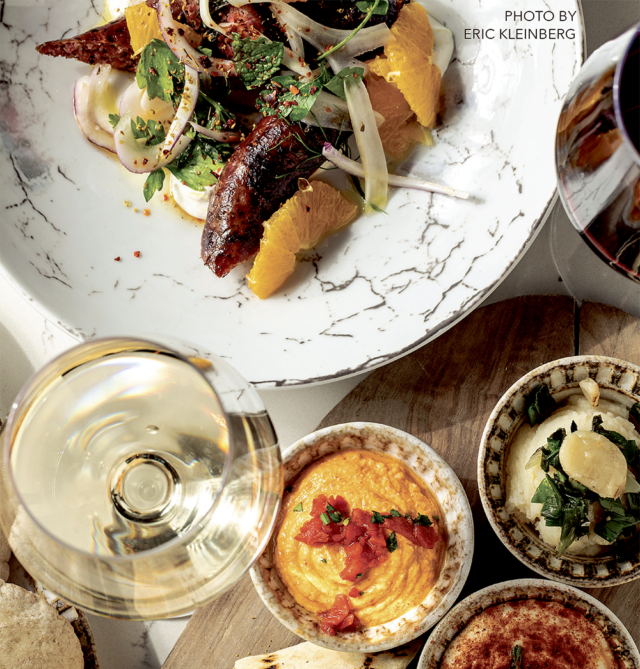 VASILISMEDITERRANEAN.COM
135 WATER STREET
DOWNTOWN NAPERVILLE
Authentic. This word aptly describes Scott Harris Hospitality's Vasili's Mediterranean restaurant, nestled in Naperville's downtown riverwalk. Named after the father-in-law of the renowned restauranteur Scott Harris (Papou is Greek for grandfather), the restaurant pays homage to the warmth and charm of Papou, whose legacy inspires Vasili's hearth-fired Mediterranean fare.
Loved by many and revered by all, his namesake restaurant has quickly become a destination to experience the authenticity of the Greek islands, with an atmosphere and a menu that transports customers to Greece on each visit.
Papou's passion for flavorful cooking began as a child at his mother's table but blossomed at his father's restaurant. Today, at Vasili's, almost everything is cooked over an open fire-75% of all items to be exact. This is unique for most restaurants within the United States, but more importantly, it provides an authentic Greek-Mediterranean experience for customers.
The centerpiece of Vasili's kitchen is the custom-built hearth that allows staff to cook and grill items over wood; the hearth-grilling technique uses white oak to enhance the authentic flavors of Mediterranean cuisine. The menu includes octopus, gyros, paidakia, lamb porterhouse, feta-brined chicken, souvlaki, Vasili's chips, and other traditional items. The seating allows people to witness the hearth in action, providing an elevated dining experience.
Opened in 2021, Vasili's is part of Scott Harris Hospitality, an iconic group of eateries and drinking establishments that have grown from its humble beginnings at Mia Francesca in downtown Chicago.
The diversity of concepts from Scott Harris Hospitality ranges from festive Mexican taquerias to Vasili's hearth-inspired Mediterranean restaurant, with a wide range of Italian trattorias throughout Chicagoland. Though the fare of each restaurant varies, every location operates on the same principles: simplicity, hospitality, and quality.
Delicious family recipes cooked over a blazing hearth, surrounded by loved ones and friends, are the foundation of Vasili's. Customers celebrate each meal with delicious food, laughter, music, and Ouzo.
Visit the restaurant to dine on hearth-inspired Mediterranean dishes that have been handed down through generations- and in the words of Papou, "eat as strangers, leave as cousins." ■